Brake System Services at Freestone Chevrolet in Fairfield, TX
Brake fluid leaks, squeaking brake noises, and longer stopping distances are signs of a brake system needing service. But to maintain your brakes before such issues can arise, we invite you to visit us at Freestone Chevrolet for GM-certified brake system services. Here, you'll find genuine OEM brake parts and brake fluid, certified service technicians, and the most competitive prices on services in the Fairfield, TX area. Please continue reading to learn more about our brake system services and then schedule a service appointment for a convenient time.
Brake Services
Brake Fluid Exchange - Brake fluid transfers and amplifies the force of your foot on the brakes to the calipers; as a hygroscopic fluid, it will absorb moisture and eventually need to be replaced as it becomes less effective.

Brake Pad Replacement - The brake pads consist of a metal backing and a softer brake lining that is designed to wear down; when this lining gets thin, it's time to have your brake pads replaced.
Learn More
Rotor Resurfacing or Replacement - The brake rotors may become glazed or warped well before they wear out; we can resurface the rotors, smoothing their surface to help you avoid paying for entirely new parts before it's necessary.

Caliper Service - The brake calipers squeeze together to push the brake pads against the brake rotors, and they will regularly need to be cleaned, lubricated, and inspected to ensure that they are providing the necessary precision.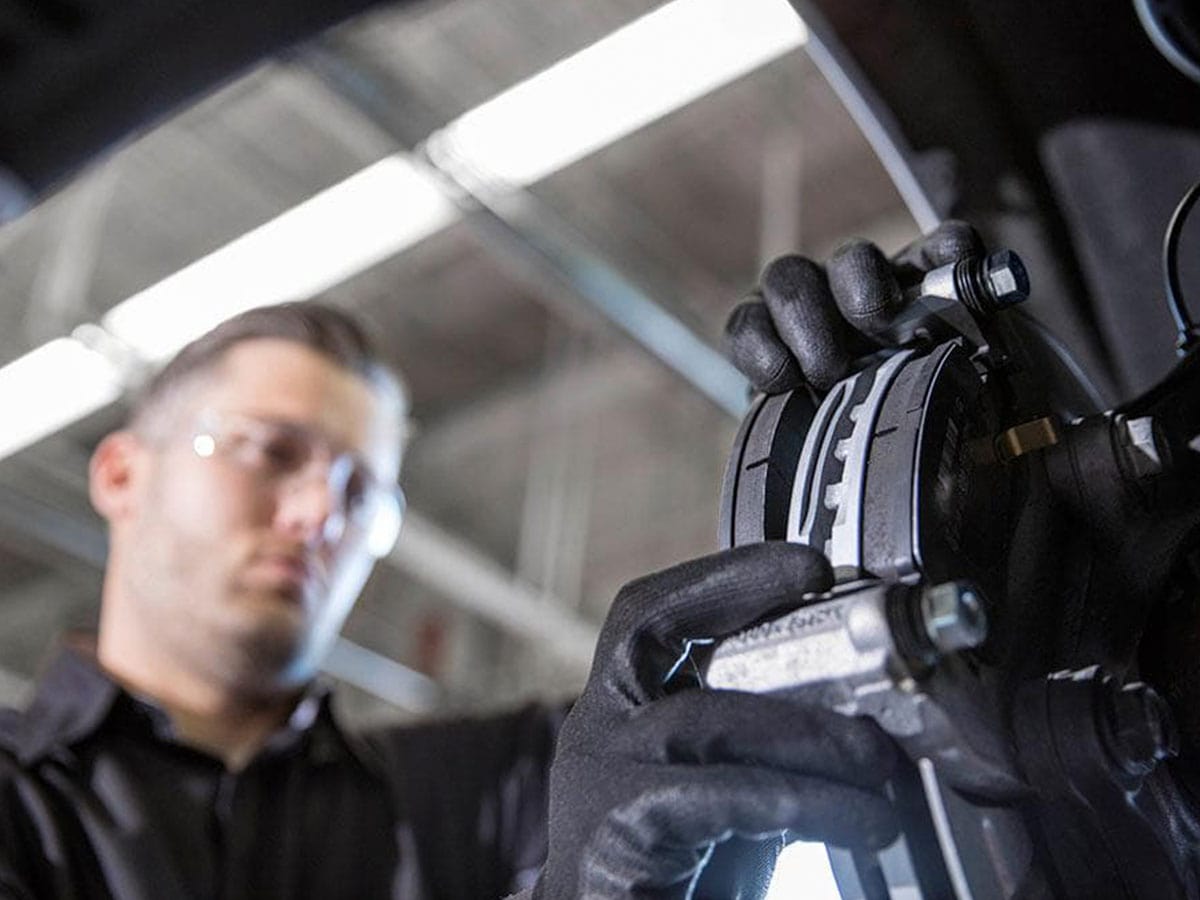 Trust Your Brake System Maintenance To The Certified Experts at Freestone Chevrolet
Our technicians undergo GM-specific training to be able to offer the most precise level of service to our customers. This training gives them a unique understanding of your Chevy's brake system and the ability to maintain it to factory standards. We offer a number of different brake system services, including brake pad replacement, brake fluid exchange, and brake rotor replacement and resurfacing. These services are completed using the highest quality OEM parts and fluids sourced directly from GM and their list of approved manufacturers. If it's been more than a year since you've had your brakes serviced, or you are experiencing any signs of brake issues, come see us for a comprehensive brake system inspection. From there, we will be able to outline a detailed plan for any upcoming maintenance services that your brakes might require.
Schedule Brake System Services at Freestone Chevrolet
Your brakes are one of the most important components in your entire vehicle. Brakes that are not properly maintained will put yourself, your passengers, and other drivers at risk. For certified brake system services near Stewards Mill and Dew, TX, we invite you to schedule an appointment at Freestone Chevrolet. You can schedule an appointment for service at your convenience using our online service scheduler or by contacting our service department during regular business hours. We look forward to providing you and your vehicle with a second-to-none service experience at our state-of-the-art facility in Fairfield near Teague and Turlington, TX.