Chevrolet Oil Changes at Freestone Chevrolet
Oil is responsible for keeping your engine lubricated to prevent damage to its parts and overheating. In order to help ensure that your oil is clean and able to perform this essential job properly, it's important to keep up with a regular oil change schedule. Chevy owners from throughout the Fairfield, TX area are invited to visit Freestone Chevrolet for their next oil change. We employ certified technicians, stock a parts department with genuine OEM engine oil and filters, and offer the most competitive prices in the region. Continue reading this page to learn more about our oil change services, and then schedule an appointment for service using our online scheduling tool.
Oil Changes Services
Conventional - Made from refined crude oil, conventional engine oil keeps your engine's moving metal components lubricated so that they will not be damaged by friction.

Semi-Synthetic - This special blend of conventional and synthetic oil can provide some of the benefits of both: it's less expensive than full synthetic oil, but keeps your engine cleaner than conventional.

Full Synthetic - Fully synthetic engine oil lasts considerably longer than conventional oil; it also keeps your engine cleaner and flows better in both hot and cold conditions.

Diesel - If your vehicle has a diesel engine, it will require a special oil that has a different viscosity than oil meant for gas engines, as well as additional anti-wear additives.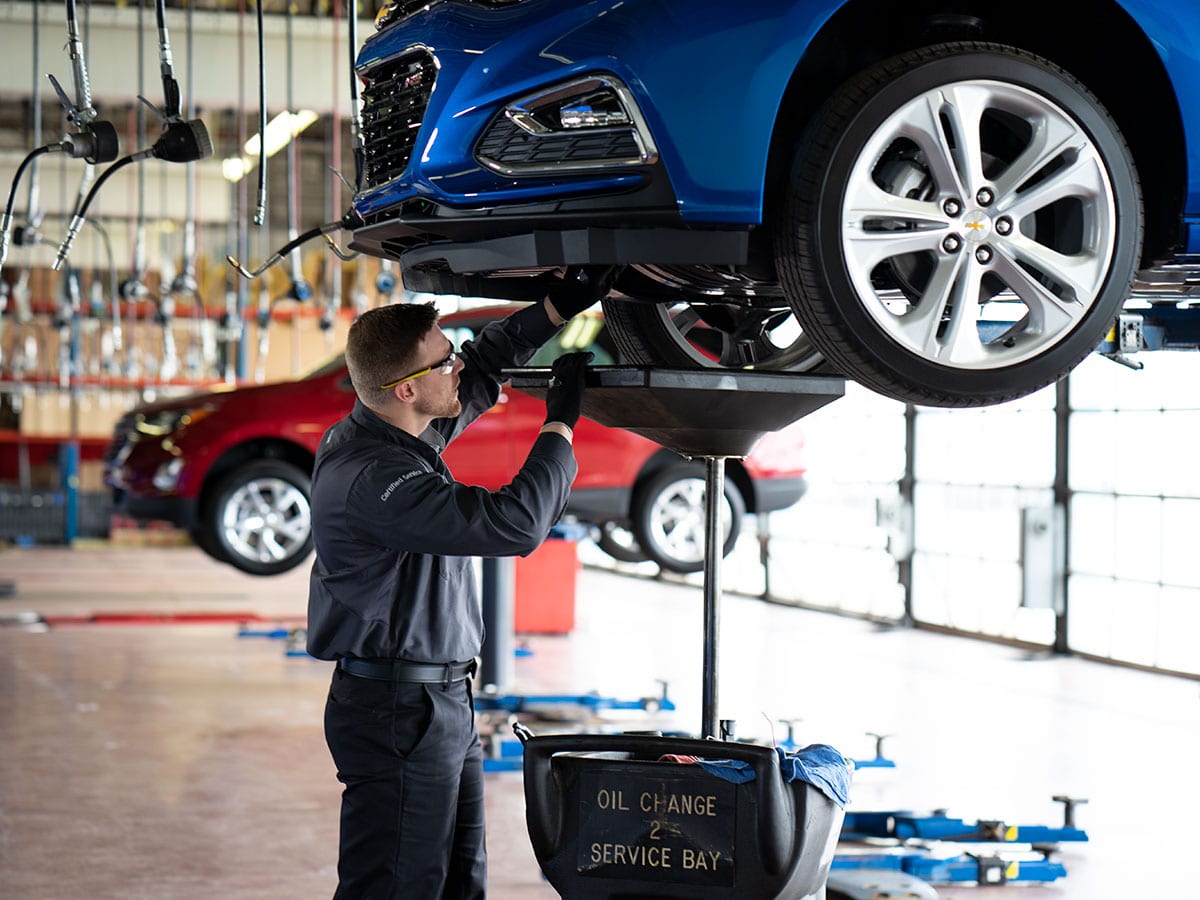 Certified GM Oil Change Services in Fairfield, TX
Different vehicle types require different types of oils. Choosing the wrong oil can lead to poor engine performance and even engine damage. At Freestone Chevrolet, we have the correct OEM oil for the Chevrolet Trax, Chevrolet Silverado, Chevrolet Equinox, and more. Our oil change services include the use of synthetic, semi-synthetic, and conventional engine oils. Synthetic oil is the best choice for optimum engine protection and a service interval of 7,500 miles. Right under synthetic oil is semi-synthetic oil, which offers slightly less performance and protection when compared to synthetic oil, and requires a change every 5,000 miles. We also offer conventional oil, which provides basic engine lubrication, and should be changed every 3,000 miles. No matter which oil option you choose, it is vital that you change it regularly to maintain its quality. Going too long between oil changes can lead to sluggish engine performance and decreased fuel efficiency.
Visit Freestone Chevrolet in Fairfield, TX for Your Next Oil Change
We have a team of GM-certified technicians standing by, ready to help you maintain your vehicle with an oil change. Our service center is located in Fairfield, TX, just a short drive away from Teague, Turlington, Dew, and Stewards Mill. Visit our service specials page now for the chance to save on routine services such as synthetic oil changes and semi-synthetic oil changes. Then, head to our online scheduling page for quick and convenient service scheduling or call to speak with our helpful staff.